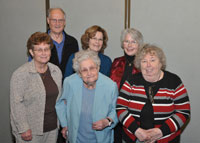 On November 18, 2013, the Henry County Genealogical Society met at the Iron Skillet restaurant in North Baltimore where several members were awarded First Family gold certificates for proving at least one ancestor living in Henry County before December 31, 1870. Donna DEITRICK DERSTADT of Green Oaks, IL, her sister, RIta Marie DEITRICK REIMBOLD of Cedar Springs, MI, and Patricia MARSHALL of Deshler, OH, were presented certificates by Society president Bill Latta. Not present, but receiving a gold certificate was Foster Lee PRICE of Travelers Rest, SC; Sandra DRABIK of Toledo, OH, also not present, was awarded a silver certificate for proving two of her ancestors were living in Henry County in 1880.
(Click on the photo on the left to see more photos of the event.)
Index of cases in the Court of Common Pleas. Includes divorces, civil actions, foreclosures, quiet titles, and many more types of cases. (In progress, done through letter K in book 1 only). Please keep in mind that this is only an index; to see the packet of information, you will have to go personally to the Clerk of Courts office in the Henry County courthouse, look up the name by volume and page number, and request the office retrieve the folder for you from the archives. The Clerk of Courts office is not required to perform this retrieval for family researchers, so we ask that you not harm the good will we have with that office. Please use this privilege responsibly.
As of February 15, 2011, this database is complete and contains 740 photos and captions that appear in Henry County, Ohio, Vol. 1. We recently uncovered the originals of many of the photos that were used in the first publication of this volume. Because of the higher quality of originals and owing to improvements in our equipment, the quality of these photos is significantly better than those in the other two volumes.
This database contains all the photos that appear in Henry County, Ohio, Vol. 2. The captions are keyword retrievable, which adds another tool you can use to search your ancestors. There are 525 photographs with captions, more or less. A browse feature has been added, but needs fine-tuning.
This database contains (as of November 19, 2010) about 582 of the more than 600 photos and captions that appear in Henry County, Ohio, Vol. 3. The browse feature for these photos works nicely, but needs some work yet. Please note: there are currently more captions than photos.
This database is an index of nearly 1800 obituaries from Henry County newspapers from 1852 to 1885.
This wonderful collection of photographs from 1927 to 1994, complete with searchable captions, was made available to us by the Ohio State University Extension of Henry County. This project was completed in the summer of 2007, and inlcudes 800 photographs. If you find any mistakes in the captions, or if you can add names, please use the Contact Us page to let us know.
Each record has the name, street/road, post office, spouse's name, occupation, names and ages of children, and names and relationship of others living there. Does not include Napoleon City.
Contact Information



| | |
| --- | --- |
| General information | |
| Newsletter submissions | |
| First Families information | |
| Webmaster | |
Census and Tax Records
Companion to the 1916 Henry County Farmers' Directory

Beginning with the May-June 1993 Newsletter, and running through the September-October 2001 Newsletter, the Genealogical Society published pages from the 1916 Henry County Farmers' Directory. We have finally located the companion map to the directory, which shows where people lived. When you see an entry like this:
SMITH, John (Mary) 3 ch farmer O 40a 2h 3c R1 McClure Dms 111 Ind tel.
it means that John SMITH is married to Mary, they have 3 children, and he is a farmer, owning 40 acres, 2 horses, and 3 cattle. He lives on Rural Route #1 outside McClure, Damascus Township, property 111. Click on the small map to the left to call up a larger map in a new browser window, then click on Damascus Township to see where property 111 is located. You can do the same for any township.